In Loving Memory
Ch. De Vine Medallion's Tegwen, CGC,TDI
9/15/91 - 7/13/99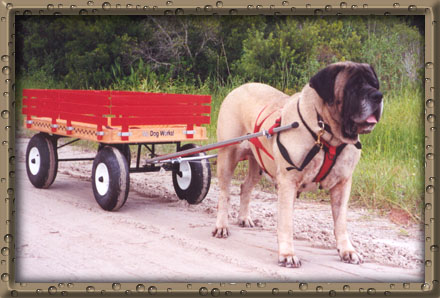 Tegwen with her "big wagon"


OFA MF-1487E26F-T (Excellent hips)
OFA elbows MF-EL87-T
OFA Patellas MF-PA3/35/F-T (the 3rd OFA patellar mastiff)
OFA Cardiac normal MF-CA3/53F-T (the 3rd OFA cardiac mastiff)
vWD normal (110%)
Thyroid normal MSU
CERF MF-316/92 thru 1997
28" tall, 165lbs
Fawn, very black mask, black ears, clear coat color. Thick coat, but no fringe or long hairs. Very slightly undershot bite. Tegwen had lovely conformation and was a smooth, powerful mover.
Teggers was a gift, an unexpected generosity from Debora Jones. Deb offered her to me on a co-ownership, with me showing and training her. Teggers was just over a year old and already beautiful when I met her. I told Deb that it would be easy to finish her, and it was. Tegwen was from a totally different bloodline than my dogs, but I loved her looks and temperament. She was funny in the ring, she loved to move, but was so bored with being stacked that she would shut her eyes. Many times I had to show the Judge that she actually did have eyes! When gaited, she trotted with her head high, tail lashing, very happy, she just detested the posing part.
Tegwen had a very complex personality. She taught me the classic "Deer Run Butt Tuck" with her crazy runs around the property with her hinnie tucked under and her back hunched. Her incredible spins around the trees, and blinding speed, made horses competing in barrel racing look tame and slow!
She was a Boomer ball fanatic and would play with her ball 24 hours a day if I let her. We often took the ball away to let her rest, but then she would spend hours searching for it. If we locked the ball in a run, she would stare longingly at it until we gave it back to her. She came to Florida with no knowledge of water, but quickly learned to love swimming. She was fearless in the water and would launch herself into the canal at a full run. She loved to retrieve in the water, but on land, no way. She was a wonderful carting dog and participated in many local parades.
She could be demanding--she had a very loud bark in a no-nonsense tone that she used to call us to open doors for her royal highness. If we ignored her, she increased the volume!
Tegwen came from well-known and famous bloodlines. She had four litters, all from Champion, fully tested sires. A lot of planning and research went into the choice of sires. One breeding was a linebreeding, the others were total outcrosses.
My biggest concern with Tegwen was the high incidence of osteosarcoma (bone cancer) in her close relatives. I do not know if it is a hereditary problem or not, but the high incidence in her siblings and the fact that one grandparent died of it seems suggestive. Tegwen has 32 offspring, four of which live with me.
Tegwen was put to sleep on July 13, 1999 because her bone cancer was so painful, in spite of powerful pain medications. Her two littermates that died of osteosarcoma were Ianto at 6 1/2 and Ch Luna at 5 1/2.
I loved Tegwen deeply, she was a wonderful, funny, beautiful companion. I will always miss her. Thank you so much, Deb for allowing me to enjoy her for seven years.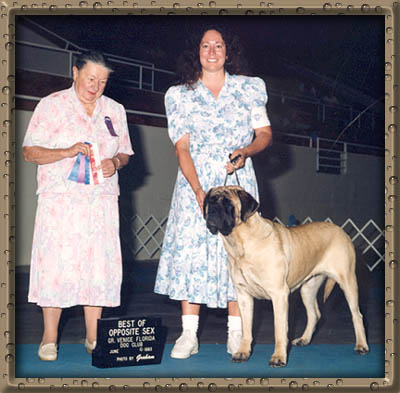 Tegwen winning with her eyes shut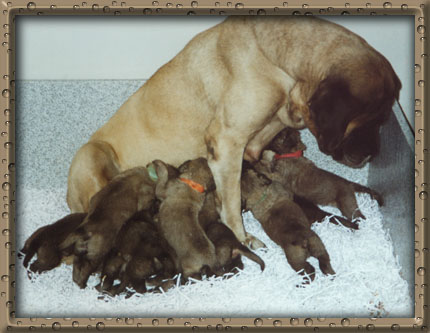 Tegwen with a past litter of pups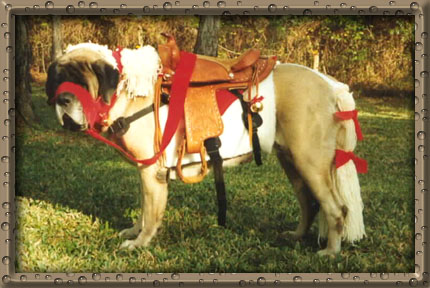 Tegwen as a pony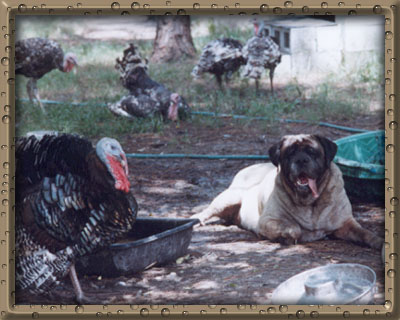 Tegwen after a long hard game of "bowling for turkeys".

She made the game up herself running her boomer ball full speed through the turkey flock. They always moved out of her way, but she found it entertaining and they had no fear of her.
See Tegwen's Pedigree.
(Use your "Back" button to return to this page)

More info & pictures of Tegwen are available on Deb Jones' page .
(Use your "Back" button to return here)


Copyright © 1999. All rights reserved.
No photo may be reproduced without express permission
&nbsp