Ch. Gold Coasts Marshal Tucker, CGC,TDI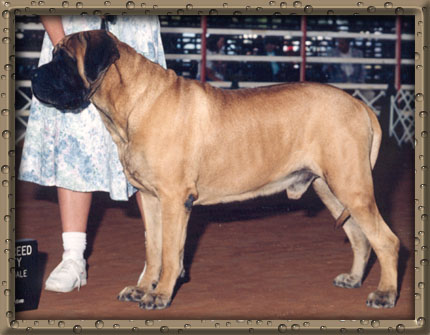 OFA Fair hips MF-940F31M-T
Radiographed for ED at 60 months, evaluated as having grade 1 DJD in left elbow
OFCA (normal cardiac evaluation at 97 months) MF-CA1/97M/S-T
The "first" OFA cardiac certified mastiff.
OFPA (normal patellar evaluation) MF-PA2/79/M-T
The "second" patellar certified mastiff.
CERF MF-218/89-98
Thyroid normal (MSU)
vWD normal (Dr Dodds, Wadsworth Center for Labs and Research)
vWF:Ag 90%
30 1/2" tall, 185 lbs
Marshal was an unusually athletic mastiff. He could (and did) effortlessly jump a 4 foot fence. He easily earned his championship and had two legs on his CD title. He had a very sweet disposition -- we called him "Marshmallow." He got along well with other dogs, liked horses, and had unbelievable patience with the poultry. He would tolerate them stealing food right out of his mouth.
He was over-angulated in the rear like his grandsire "Rambo," Gulph Mills Resounder. His best features were his excellent front, feet, topline, and head. He was nicely wrinkled and had a broad skull and short, blunt muzzle. He moved well, with power and purpose. He was a "talker" and inherited the "head swinging" trait of his sire. He was a much loved character. We lost Marshal two months after he had surgery to remove a fist-sized adenocarcinoma from his intestine. He was only 10 years old. "We still love you and miss you, 'Melly O!"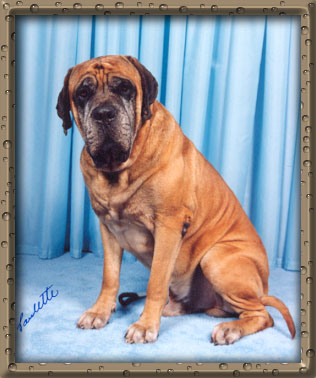 A combination of grandeur and good nature


See Marshal's Pedigree.
(Use your "Back" button to return to this page)

More info & pictures of Marshal are available on Deb Jones' page .
(Use your "Back" button to return here)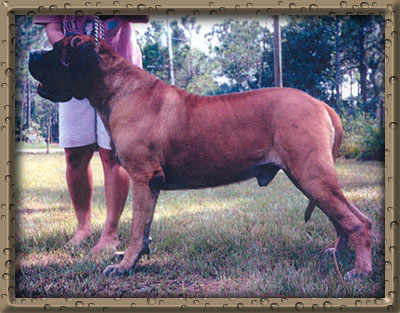 Yard photo of Ch. Marshal as a young dog


"Brig"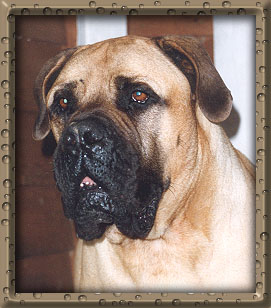 This page cannot be complete without including Marshal's best friend "Brig" the Bullmastiff. They adored each other and got into a lot of trouble when Brig broke down a section of fence and climbed over it. Marshal jumped it, and they were off to explore the woods (much to my dismay). They must have had a wonderful adventure, since the only way we could keep them in after that was to kennel them, or electrify the entire fence line surrounding our property. We wired the property, and Brig could often be seen testing the fence with a whisker to see if it was on. We lost Brig at 8 years old to bone cancer.


Copyright © 1999. All rights reserved.
No photo may be reproduced without express permission
&nbsp