Gardening in Florida
One of the best things about living in Florida is the ability to grow a wide variety of beautiful plants. My particular interest is in growing edible delights that Pat and I, and the dogs can enjoy. There is a special pride in growing your own healthy food.
I have 7 raised bed gardens. Florida can be very wet during the summer, and I learned the hard way that most plants don't like to have their roots sitting in water for weeks. The majority of my vegetable garden is in my two 4' by 16' beds in the back yard. I've added topsoil, manure, peat moss, and lots of compost over the years. The beds are home to many earthworms. The only time the garden is not producing is in July and August, when it is simply too hot and humid. During that time the beds are cleaned out and covered with plastic.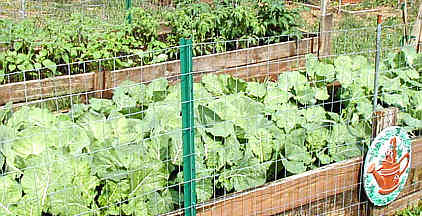 I grow many different veggies. Oddly enough, veggies that are not our favorites seem to grow best and produce the most. After being overwhelmed with eggplant and okra last year, I decided to skip them this year. My usual crop schedule is as follows: September/October- purple beans, sugar snap peas in the little 1' by 30' beds, with radishes planted in front of them. I grow my beans and peas along the outside of the unused dog kennels and turkey pen. The beds are really simple, just floorless rectangles of 1 by 6 boards. I lay newspaper on the cleared area by the fencing, put the rectangular enclosure over it, and fill with clean, new soil each year. The sugar snap peas are better than candy-so sweet and tender. They rarely make it into the house, we eat them off the vines .
I also replant my herbs in containers, and on the top row of my strawberry beds in September. I put in rosemary, oregano, chives, parsley, basil and anything else that looks interesting. Fall/Winter is the best time for lettuces, swiss chard, cabbages, broccoli, spinach, bok choy and onions.


In early February, I plant tomatoes, peppers, tomitillos, cukes, nasturtiums (edible flowers), squashes and collard greens. Those go on producing until the summer. I plant at staggered times, and use many varieties so I nearly always have yummy stuff ready to pick. Any damaged leaves/veggies go into making veggie purree for the dogs. I have to fence off all garden areas, since the dogs will happily dig in them if they are left open.
Now on to my favorites! I am a nut about fruit trees. They fascinate me and I find it so interesting to watch them grow and see the cycle of flower/fruit.
I have the following fruit trees/shrubs/bushes and am planning to get more. Some are young trees and are not producing much yet. Most fruit trees take 3-7 years to produce good quality fruit, with others as slow as 12 years. But they live a long time too.
Apples
Peaches
Persimmon
Jaboticaba
Loquats
Pineapples
Avocados
Passion Fruit
Figs

Brown Turkey
Black Mission

Cattley Guavas
Citrus
Plums
Blueberries
Papayas
Lychee (Brewster)
I love Mangos, but am highly allergic to the sap, so can't have a tree :(.

Copyright © 1999. All rights reserved.
No photo may be reproduced without express permission
&nbsp