Ch. Southern Gentleman, CDX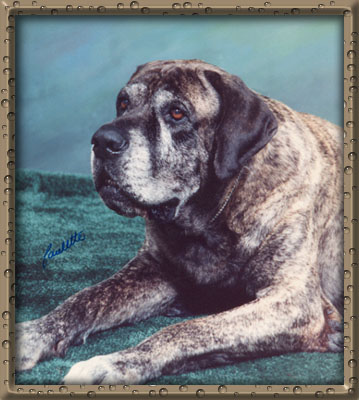 Chopper at 11 years



"Chopper" was my soulmate. He was clever, bold, brash, loving, and in my eyes, the most beautiful dog in the world. He was my first mastiff, bought from a newspaper ad. Despite my ignorance, he became the first champion, CDX male mastiff in breed history. He was trained to a utility level, tracked like an expert bloodhound, and excelled at schutzhund class. His titles reflected his intelligence, not my abilities. He should have been a UD and TDX. I (being young and foolish) discovered "boys", and spent too much time with them.
"Chopper" was a small, plain brindle with effortless movement. He was tireless. On a typical day we went on long trail rides with the horses, and jogged 6 miles each evening in the park. He loved to jump: for fun he would jump the 36" horse jumps and soared over park benches to show off. He was an excellent swimmer and a regular crew member on my sailboat. Chopper's intelligence sometimes made him difficult to live with. He could get out of or into almost any crate or kennel. He also knew how to open doors. On several occasions he let all the dogs loose, opened the french doors and they all traipsed in.
He was a fantastic retriever. He loved to seek, and if he couldn't find what I sent him for, he'd grab anything he could as a substitute. As a protector he was unsurpassed, a simple "watch him" from me, and he'd be on instant alert. He was fearless. He loved people and other animals and enjoyed showing off.
I miss him terribly. Twelve years was not nearly enough time...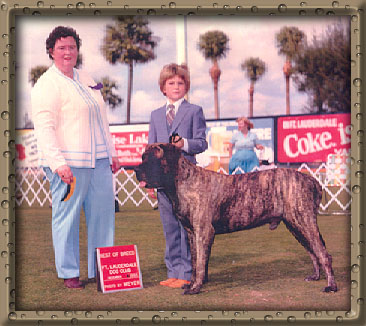 I was showing another dog that day, and took BOW, so I asked young Scott to take "Chopper" in for me. I heard the professional handlers grumbling about "kids in the ring," but Scott showed us all up and took the Best of Breed Award. He then waited four hours for his photo to be taken!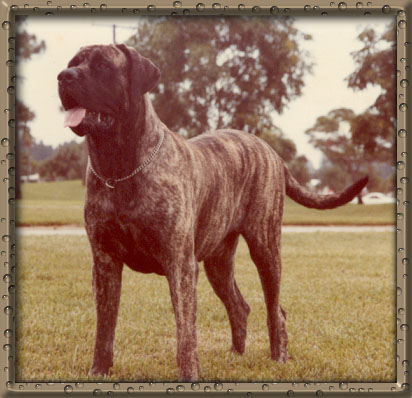 Chopper as a young dog
"Throw it Mom, throw it!"

He loved to retrieve anything and everything.


See Chopper's Pedigree.
(Use your "Back" button to return to this page)

More info & pictures of Chopper are available on Deb Jones' page .
(Use your "Back" button to return here)


Copyright © 1999. All rights reserved.
No photo may be reproduced without express permission
&nbsp