We are very concerned with the serious health, temperament and lifespan issues in our breed. Too many Mastiffs are dying young, from horrible problems. Cancer kills many Mastiffs, as does autoimmune disease, epilepsy, bloat and orthopedic issues. Ruptured cruciates, although not life threatening, are now common-why??

We are seeing some breeders choosing dominant temperaments simply because they "show" better, although such Mastiffs can be difficult to live with. Shyness, as always, is still common in the breed. An aggressive Mastiff should never be bred.

Please be very, very careful about purchasing a Mastiff, or breeding your own dog.

If winning at shows is your goal, then go to a show breeder that wins a lot, and do not be surprised at short lifespans or dominant temperaments. Selecting for "show winning" traits does not automatically include screening for health issues or longevity. Some show breeders are doing a good job at breeding healthy dogs, but most are not. Verify testing prior to spending your hard earned dollars.

If you want true working dogs, find a breeder who has titled many dogs in Obedience or other "working" events. If you want health and longevity, search out a breeder who tests for everything that can be screened for, who breeds older dogs instead of two-year-olds and who has lots of old dogs that still compete and are healthy.

Be aware that many breeders claim that their dogs are "tested" when in fact, they are not being honest with you! Some have gone so far as to advertise a "tested" dog, but don't mention that the dog failed the testing.. An OFA prelim at 6 months does not equal an OFA number. X-rays screened by a local vet are usually useless as far as accuracy. PennHip seems to be used most by those who cannot pass OFA. You cannot verify PennHip info in a pedigree - there is no Pass or Fail rating, or any way to look it up. I see lots of websites that indicate that their dogs are CERFed, and OFA certified, yet these dogs do not show up on the OFA and CERF sites. Ask those breeders why, and do not accept excuses. A CERF exam on a puppy is not valid for a 6 year old dog. When people skimp on health tests, it really makes me wonder... Why?

Be an informed buyer- check out all health claims before you fall in love with a cute face!
Our Breeding Requirements and Goals
We choose our breeding dogs carefully, do *complete* testing and require testing on all puppies sold. Our Mastiffs are first and foremost our companions and house pets. We feel Mastiffs as working dogs, should be sound, athletic and easily trained. We have no interest in producing the "biggest, tallest, heaviest" Mastiffs that are promoted as being desirable by some breeders. We prefer medium sized Mastiffs, that are well muscled and move with power and grace. We expect them to be good jumpers and to be able to trot for miles, even into old age.
Soundness and health (OFA Hips/elbows/cardiac/patellas/ CERF/vWD/thyroid/ cystinuria/PRA DNA normal) are required in our breeding program. As new tests become available we plan to include them as well. Our dogs must pass all the screening tests prior to being considered for breeding. We do not allow our studs to be used on untested bitches, although that practice seems acceptable to some.
Our goal is to produce beautiful, long-lived, sound Mastiffs who win in the breed and obedience rings and make wonderful companions. We expect them to live at least a decade, most live longer. Our Mastiffs routinely compete successfully at what some may consider "old ages" such as 8 to 9 years old.
Diet makes a big difference. We feed a raw, fresh food diet and require our puppy buyers to do the same. Changing to a diet of fresh, unprocessed species-appropriate foods was the best choice I ever made for my dogs to improve their health. They thrive on raw foods!
Our puppies are born and raised in the house, with plenty of socialization. We vWD test, CERF, cystinuria test, microchip, and minimally vaccinate pups prior to placement. All breeding dogs are PRA DNA tested and proven free of the disease, so all puppies are clear as well. We use Dr Dodd's vaccination schedule. Puppies are Aptitude Tested at 49 days with written scores and a video taken of the entire litter testing. Our puppies are parasite free, and started on basic obedience and house training. Pet quality puppies are sold on Limited Registration and must be spayed/neutered. Gold Coast Mastiffs are dual registered with both AKC and UKC. All adults are DNA profiled.


Clicking on "MCOA Gold Health Awards"
will take you to the more information about MCOA Health Awards.

Upcoming Breedings
(Deposits are recommended)
(Sire not chosen yet) X Raven
UKC Ch. Gold Coasts Raven
"Raven"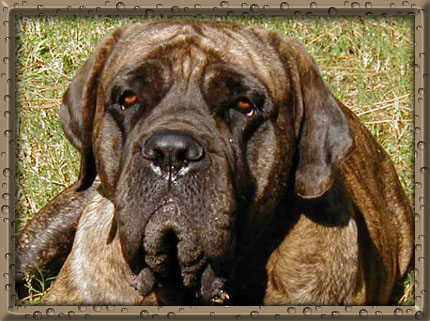 Raven is a "Gold" Health Award Winner
OFA Good Hips MF-3969G26F-T
OFA Elbows MF-EL1456-T
CERF Normal 12/02
PRA DNA clear by parentage
Thyroid Normal 10/99
Cardiac OFA MF-CA250/20F/P-T
Patellar normal OFA MF-PA334/20/F/P-T
vWD normal
Cystinuria negative

Raven is DNA profiled and dual registered AKC/UKC.

(Sire not chosen yet) X Lorena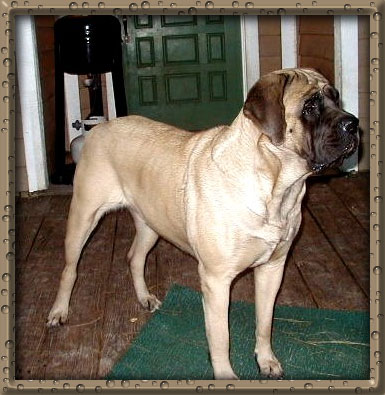 Dam: UKC Ch. Gold Coasts DeVine Lorena
(AKC/UKC Ch. Gold Coasts Woodrow F Call, CGC,TDI
X
Ch. DeVine Medallion's Tegwen, CGC,TDI)

Fawn bitch, very athletic, balanced conformation.
Earned her Championship with BOB wins and Group Placements
OFA Good/OFEL/OFCA/ OFPA/CERF/PRA DNA clear (Homozygous Normal)/vWD/Thyroid normal,
Cystinuria negative. DNA profiled. MCOA Gold Health Award.

Mackeson X Breaker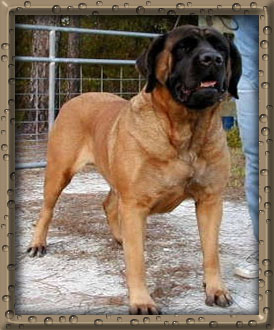 Breaker inherited her mother's trait of
closing her eyes when stacked
Dam: UKC Grand Ch. Gold Coasts DeVine Heartbreaker
(AKC/UKC Ch. Gold Coasts Woodrow F Call, CGC,TDI
X
Ch. DeVine Medallion's Tegwen, CGC,TDI)

Apricot bitch, tons of pigment, lovely temperament and conformation. Second mastiff to earn a UKC Grand Championship and tied with Yogi for UKC Mastiff 2003. DNA profiled. OFA Good/OFEL/OFCA/OFPA/CERF/ vWD/Thyroid normal, PRA DNA clear (Homozygous Normal), Cystinuria normal. MCOA Gold Health Award.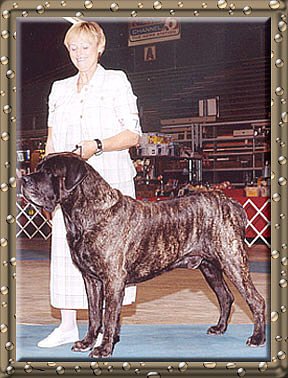 Sire: Am.Intl.UKC.Ch. Gold Coasts Mackeson Stout, TDI,CGC
(UKC Ch. Gold Coasts Augustus McCrae, CD,CGC,TDI
X
Megamillions Pooka, CGC,TDI)
Mackeson Stout has a MCOA Gold Health Award
Cystinuria normal, OFA fair/OFEL/OFPA/OFCA/CERF(2002)
MSU Thyroid normal (6/00), vWD normal,
PRA DNA clear by parentage.
Multiple Best Of Breed winner.
See the Pedigree for this breeding
(Use your "Back" button to return to this page)


Copyright © 1999. All rights reserved.
No photo may be reproduced without express permission
&nbsp